Its that time of year again! With the UCI MTB World Cup getting underway this weekend, join us as we look at the top 5 Elite Male & Female we think could be in the mix at the front this year.
Elite Female
Alessandra Keller
The young Swiss rider who won the XCO & the XCC overall last year is sure to be planning the same again in 2023! Can she hold her own against the more experienced rider during 2023?
Pauline Ferrand Prevot
How can we forget Pauline's win at the World Championships – Simply riding away from all other competitors & extending the time more & more each lap. With her experience & current fitness (winning the French Cup race by a big margin a few weeks ago!) she will definitely be a force to be reconded with in 2023.
Evie Richards
The young UK rider suffered from back problems during 2022 meaning she had to miss some of the rounds – Now that that's sorted we think she can be back on the podium & even win some rounds judging by her performance last week in Chur.
Rebecca McConnell
With McConnell's excellent form she had at the start of the 2022 season & winning the first 3 rounds by a big margin she had to be on this list! Can she repeat her epic 3 back to back wins?
Mona Mitterwallner
Mona came very close to her first World Cup win last year in Andorra & she has had some already great results in 2023 including a win. If she can get a good start we think she has a good chance of being in the mix at the front of the race.
Elite Male
Nino Schurter
Nino needs no introduction the undisputed king of XC will be searching for that 34th World Cup win to pass that of French legend Julien Absalon. We think this must be a huge goal of his for 2023, however it won't be easy with lots of young & upcoming riders in the elite male race.
Titouan Carod
After riding away from the rest of the field during two world cups last year, if he has the same form can he replicate that in 2023?
Alan Hatherly
Alan definitely found his form last year, riding with the front group at multiple World Cups & narrowly missing out on a win in Lenzerheide. Yet another rider who is sure to be looking for that first World Cup win!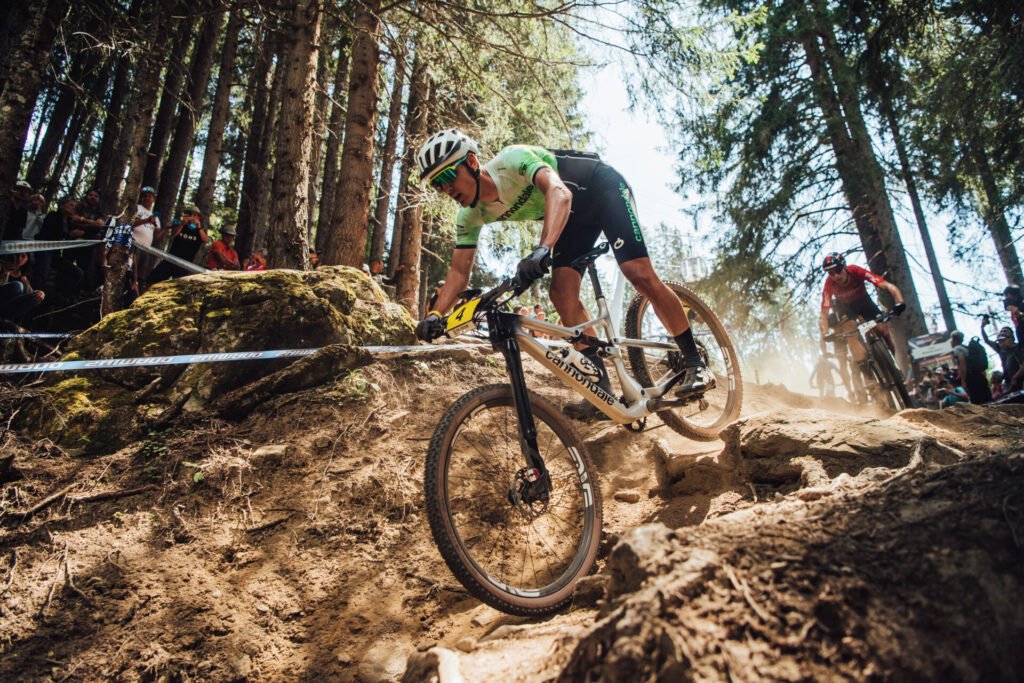 Vlad Dascalu
After coming so close to his first World Cup win in 2022 – both in Andorra & Nove Mesto he is sure to be hunting for his first win in 2023.
Tom Pidcock
Tom won every World Cup he took part in last year so he is definitely a force to be reckoned with. The young rider from Great Britain showed his form last week in Chur riding away from both Nino Schurter & Mathias Fluckiger.
Did we miss anyone? Let us know in the comments!